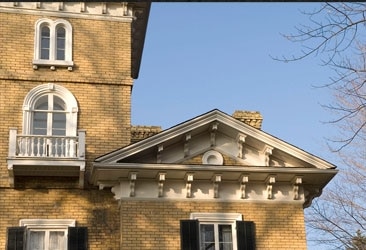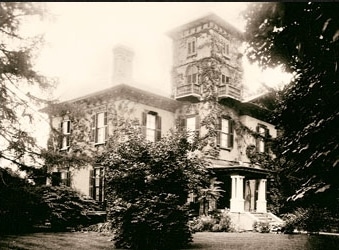 Archdeacon MacMurray was the third rector of St. Mark's and the instigator of the construction of the Rectory in the mid-19th century. This is a most unique building style in town, being fashioned on a Tuscan villa reminiscent of some of John Nash's designs of the early Regency period – in the massing, in the wide bracketed eaves, and in the French windows and interior details. The original kitchen was in the basement, and the ground floor rooms were fashioned around the ell of the main hallway and stair. The substantial square tower with sizeable windows are a particular feature both of the exterior and of the interior space. The interior features high ceilinged rooms and numerous details of interest including the pilastered mantels, the bold plaster cornices and a magnificent spiraled stair with carved and turned oak balustrades.
With the budget demands to maintain the church itself, the Rectory fell somewhat into disrepair. In the 1990s, The Foundation undertook the task to restore the Rectory, emphasizing the exterior repairs through two separate restoration projects. The Foundation undertook the full cost of the work, with the provision of a long lease-back which allowed The Foundation to recoup their costs by rental to a private family, With the termination of that lease, the house again became the home of the Rector as it remains to-day.
The photo at top right, from the collection of the Niagara Historical Society & Museum, shows the Rectory in the 1920s.