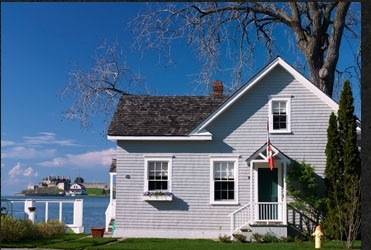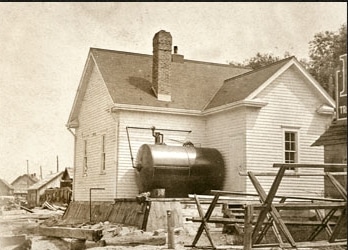 The Foghorn House was built in 1904 by the Department of Marine and Fisheries and operated as a warning signal for marine vessels in the days when Niagara's waterfront was a bustling center for the shipping industry. Two nearby lighthouses were erected at the same time, and managed by the foghorn operator. The foghorn closed during winter months when lake navigation ceased. The foghorn operated until 1978. The photo at top right, from the collection of the Niagara Historical Society & Museum, shows the house in the early 1920s.
The main storey and a half block appears to be the original struacture – a gable roofed, shingle style frame structure atop a heavy concrete foundation. Despite its utility, the design was enhanced by 4 over 4 and 6 over 6 windows, exterior cornice decoration, and elaborate brickwork to the chimney. The building housed two large boilers and the heavy machinery to operate the horn. Residential components were added much later, probably in the 1950s when the large old equipment was replaced by lighter electrical and diesel powered equipment.
Fred Masters was the first of several signal keepers; his nephew Frederic Masters was the last. Some remaining relatives in the Niagara area provided their reminiscences.
The Foghorn House is owned by the Town of Niagara-on-the-Lake, having purchased the property in 1982 after it became redundant in. The Niagara Foundation first carried out the exterior restoration, and then again in 2010 undertook a full refurbishment of both exterior and interior to operate the house as a vacation rental cottage.
Foghorn House rental
Although The Niagara Foundation still maintains a lease for the Foghorn House from the Town of Niagara-on-the-Lake, we have not sublet the cottage on a short-term basis since 2019. We now have a long-term tenant.